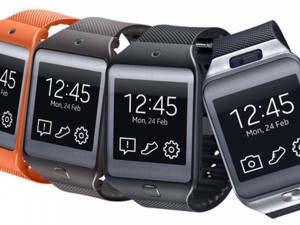 Here is my review as a satisfied customer of Samsung. I bought a Samsung Gear 2 (about 5 days) and I think is one of the best gadgets I've acquired recently.
The interaction between my Note 3 and Gear 2 is fabulous … What I like more ? It is difficult to answer …
What I use most is the step count , setting new goals every day , the handsfree, read emails and messages without having to take the phone and use the timer…
About the autonomy of battery, I'm quite impressed! Lasts about 2 and a half days with a regular / heavy use. When reach 15 % of battery, disables the ability to take photographs. On 5 % only gets to see the hours…
Regarding the camera, obviously was not expecting superb quality (compared with the 13MP Note 3). However, despite having 2MP, the Gear has a very good quality… However it is a feature I'll pass …
My choice of Gear 2 instead of Gear Neo is due to the fact that the Gear2 have Metal chassis and the Gear Neo plastic chassis… I've been with this 2 smartwatch on my arm and chose to spend + € 100 for Gear2.
As for Samsung Apps for now is still much to be desired, as there are only about 40 available, with half of them pay up (every 1 € / each). Just bought one (a calculator) that became a disappointment , because I've a quicker head (it has a small screen too much for this functionality).
I got it for 5 days and each day, I see a new App in Samsung Apps. Waiting to see if I can find some really useful… If so, I will publish here (if I remember to do it). However it's already have a number of applications (bu default), that have proved very useful and interesting. Hope to see more Apps soon!